Start Earning
by passing
The Trading Pit


CHALLENGE

PROVE
YOUR SKILLS

MANAGE RISK

START EARNING FROM
YOUR TRADES
How to start
Login to your Client Area
Choose your preferred Trading Platform
Choose your Evaluation Challenge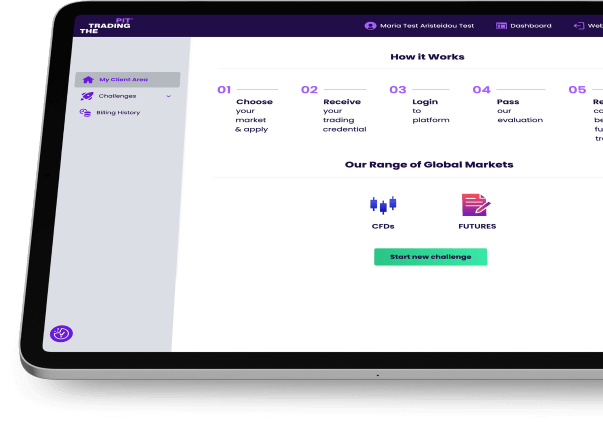 What is The Trading Pit
Challenge?
The Trading Pit Challenge is our evaluation phase where you must prove your trading skills as a prop trader. Passing The Trading Pit Challenge indicates you have what it takes to trade profitably whilst managing your risk and you will therefore receive a Scaling account, where you will get paid out up to 80% of the profits you make at each level!
Start Your Journey
How to Start Earning
Unlock the path to earning in The Trading Pit Challenge by embracing our proven methodology. Our trading objectives, developed by our seasoned professionals, are not random obstacles but strategic risk management tools designed to enhance your trading skills.
Follow these objectives diligently, and witness first-hand how they cultivate discipline, empower decision-making, and propel you towards financial success in The Trading Pit Challenge.
Step into the Benefits
of The Trading Pit Challenge
| | Trading Advantages |
| --- | --- |
| $5 Million Scaling Plan | |
| Flexible Drawdowns | |
| 80% Profit Share | |
| 1-Step Challenges | |
| Multi-Asset Trading | |
| No Mandatory Stop Loss | |
| Free Trading Platforms | |
| Official TTP Certification | |
| Minimized Trading Latency and Costs | |
| Clear Pricing with No Hidden Fees | |
| Simple Trading Rules | |
| Flexible Earnings Withdrawal | |
| Broker-neutral, conflict-free operations | |
| Cross-Platform Compatibility | |
| Career Advancement Opportunities | |
Our Available Educational Tools
EBOOKS
Discover a treasury of knowledge at The Trading Pit's Library that empowers traders with invaluable insights.
WEBINARS
Overflowing with analysis, research, expert insights, and actionable ideas, it's your gateway to success.
PODCASTS
Join our mentors for weekly episodes and unleash your trading potential. Grow, learn, and thrive with us!
VIDEOS
Equip yourself with the knowledge and tools necessary to thrive in the financial markets. Your path to success starts here!
INFOGRAPHICS
Journey through the entire trading world with our comprehensive infographics at The Trading Pits Informative. From beginner basics to advanced strategies.
PRESS RELEASES
Stay informed and up-to-date with the latest news and developments in the trading world through our compelling press releases!